The hospitality industry has always been a demanding industry with a bright prospect of worldwide ceaseless growth and profit. At the same time, it is also one of the most affected industry in the current global Covid-19 pandemic with the new government limitation that is currently in place. Shutting down restaurants has now caused unprecedented movement within the hospitality sector. POS online ordering system features have managed to cover all your business needs.
In view of this, 3S POS has an Online Ordering System for those affected restaurants and dark kitchens to take control and have the option to run their business without shutting down completely.
What is an Online Ordering System?
An Online Ordering System is one of the most convenient ways for restaurants and dark kitchens to maintain their business online. The system connects the customers to your business which allows customers to order online without having to leave their homes. The item(s) will then be delivered to the customer's doorstep
The 3S POS Online Ordering System is:
Seamless EPOS & Kitchen Display Integration
Integrated with delivery aggregators such as: Deliveroo & UberEats
No commission fees
Multi-site management
Fully branded & responsive ordering page
Visual menu with modifier management
Easy setup
Monthly rolling contract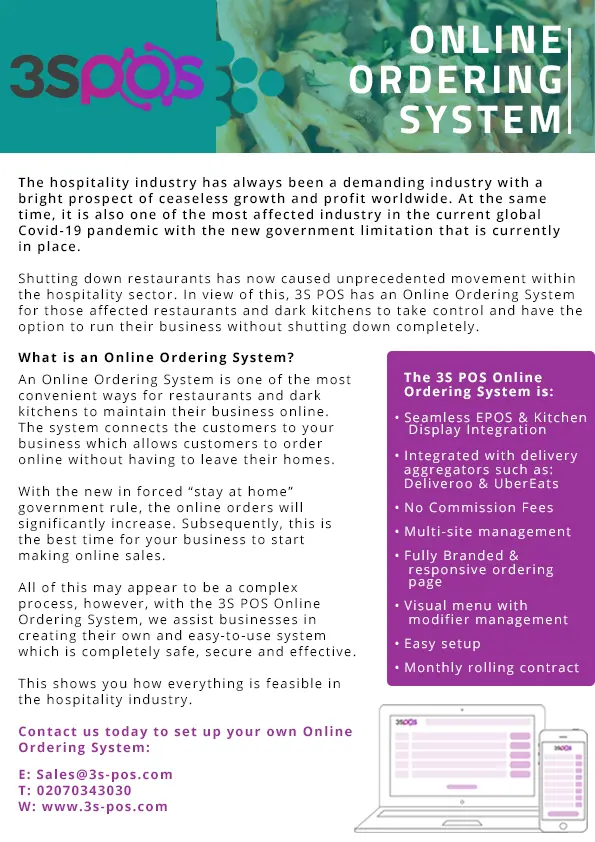 With the new in forced "stay at home" government rule, the online orders will significantly increase subsequently, this is the best time for your business to start making sales online. All of this may appear to be a complex process, however, with the 3S POS Online Ordering System, we assist businesses with creating their own and easy-to-use system which is completely safe, secure and effective.
This shows you how it's still possible to run your business as everything is feasible in the hospitality industry. And also you can discover more about our EPOS systems for other business industries.
Contact us today to set up your own Online Ordering System.