Launching into the casual dining deep-end with one location can be challenging enough. Now multiply by around 20 locations, in the UK and internationally, and you could have a potential nightmare if not executed in the right way. Get to know more about Caffé Concerto.
Distribution Management Centre (DC)
Enterprise Stock Control Module
Purchase Order Manager
Overcoming Obstacles
We interviewed the friendly face & Operations Director of the Caffé Concerto Group, Maher Al Hajjar, to understand how EPOS helped streamline business growth. Maher knows only too well of the obstacles and barriers of growing from a single location to a nationwide café & casual dining empire, all whilst protecting the brand integrity and the quality of the product.
Maher explained:
"There were three main problems we faced whilst expanding. The main barriers as a cafe & restaurant revolved around logistics. Firstly, how do we get 100% fresh produce to our branches, and more importantly to our customers in a timely fashion? Secondly, how do our staff manage and produce to order while responding to the demand of our ever-growing café & restaurant estate? Lastly, how do we manage our staff between branches to reduce cost whilst increasing efficiency? These three issues could make or break our brand."
Optimising distribution and stock management
It became clear very early on that with the expansion, Caffé Concerto needed to centralise the cake & patisserie production. To ensure quality and freshness, it became imperative to internally distribute their own product.
In Maher's own words,
"We worked very closely with 3S POS to ensure their Distribution Management Centre (DC) addressed our growing requirements and they delivered bespoke features unique to our business model that not only allowed each branch to order from the DC, but also monitor the progress of their orders and make amendments accordingly before delivery. The Enterprise Stock Control module allowed our branch managers and chefs to have tight control on their stock levels and costs, whilst the Purchase Order Manager gave them the flexibility to order directly from suppliers offering the best and freshest produce. As an enterprise system, our procurement teams in head office are able to monitor and manage all branch activities to minimise stock costs and wastage at all times."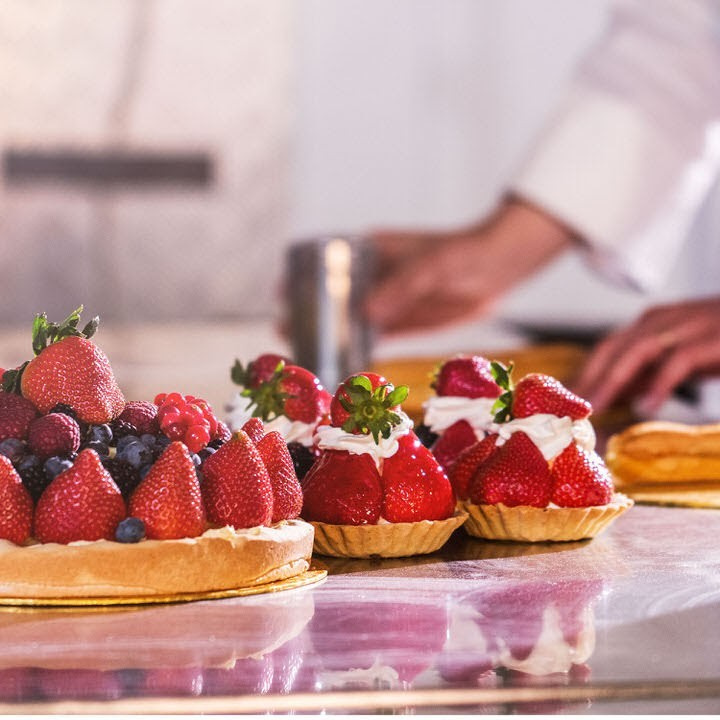 Sheer Elegance at Caffe Concerto
Taking the stress out of managing staff with EPOS
To maximise the Caffé Concerto front of house operations and sales, it was important to ensure the right amount of staff with correct training, in each location.
When we asked Maher how the EPOS system helped with this issue, he responded:
"The HR & Staff Management tools give us control over staffing budgets, attendance, payroll and training. On a weekly basis, each staff member automatically receives their weekly rota via email. This tool also has a clock in/ clock-out feature, which ensures staff are paid to the exact minute."
Bespoke Development
The 3S POS team have tailored their EPOS and Company Management system for Maher and his team; and continue to work together to develop bespoke solutions for them to address their fast-growing enterprise business.
Top conclude, Maher added:
"I'm looking forward to the future with 3S POS as they've grown with us from the beginning, and there are exciting times ahead with the new emerging technologies enhancing hospitality operations!"
Our Approach
Every business has its own unique way of doing things, ethos and management culture. With this in mind, we have aimed to develop the industry's most flexible EPOS system. Our EPOS systems are set-up to work around exactly how you want to run your business, not the other way around. However, for those customers who require additional features unique to their business, or integration with specialist websites/software/equipment to enhance their business operations – we can offer bespoke development.
We value the importance of business relationships and helping our customers expand and flourish.