EPOS tills
Handheld orderPAD
Kitchen display systems
Delivery and loyalty app integration
Quality at every touchpoint
Yousif Aslam, Managing Director of Heavenly Desserts, explains why the franchise has chosen to partner with 3S POS and how the feature-rich hospitality EPOS suite is helping the business become more efficient and supporting its growth.
During the interview Yousif discusses key elements of the EPOS suite that support the operational needs of the business. The 3S POS technology ecosystem installed at Heavenly Desserts includes EPOS tills, handheld orderPAD, kitchen display systems, delivery and loyalty app integration. Read on to find out how we helped Heavenly Desserts become more efficient in different areas of the business.

Yousif explains,
"Quality is at the heart of everything we do and over the last 10 years, that's one of the key elements that draws a lot of the customers to our venues."
The Heavenly Desserts brand takes great pride in delivering quality at every touchpoint of the customer journey – from the ambience, to the service and the exquisite desserts served at the stores across the country.
After extensive research in the market, Heavenly Desserts chose to partner with 3S POS, as the technology solutions we provide help support the brand values of quality and premium customer experience that are at the heart of the successful franchise brand.
During the interview, Yousif commented,
"We came across 3S POS, made contact and the journey was smooth right from the beginning to the very end. From a technical perspective and even from a customer care perspective, 3S POS have really delivered on everything that they said they would."
Smarter Kitchen Management
Managing a busy kitchen comes with its challenges and Heavenly Desserts were looking for technology to help staff manage multiple orders with fast service times.
Yousif commented on the value these have added to the business:
"A Kitchen Display System is something that we've never really had before prior to taking on the 3S POS system. It has played a very important role in our operations in-store, mostly from an efficiency point of view. Our back of house teams are now able to track timings of how long it's taking them to prepare orders."
Investing in touchscreen Kitchen Display Systems has allowed the Heavenly Desserts staff to meet the service times and have a clear flow of communication between front of house and kitchen staff.
Streamlining Takeaway Orders with Deliveroo Integration
The delivery market is booming and is set for further growth in next few years. Heavenly Desserts have taken advantage of the 3S POS integration with delivery aggregate Deliveroo a while ago. The business now benefits from a more streamlined approach to order management.
Yousif explained further:
"The Deliveroo integration has been quite important for us. A lot of our sites receive a high volume of orders on Deliveroo, especially where we are highly populated with students. The integration has really helped us become efficient in our kitchens. The positive impact it's had is that we're able to prepare the orders in much quicker time and as a result we benefit and the customers benefit as well."
Making HR Management a Breeze
Yousif commented during our interview,
"My favourite feature of the EPOS Suite most definitely has to be the HR & Staff Management module."
Moving away from using several different systems, the HR module of the EPOS Suite has helped Heavenly Desserts pull all their staff data into one place. Attendance, Rota and payroll can now be done through the EPOS system, thanks to the extensive functionality and integrations with other software such as Sage and Xero.
As a result, all staff can quickly and securely clock in and out throughout the day. Store management has become a lot easier as senior staff are able to complete tasks such as compiling rotas and accessing HR-related staff information with ease.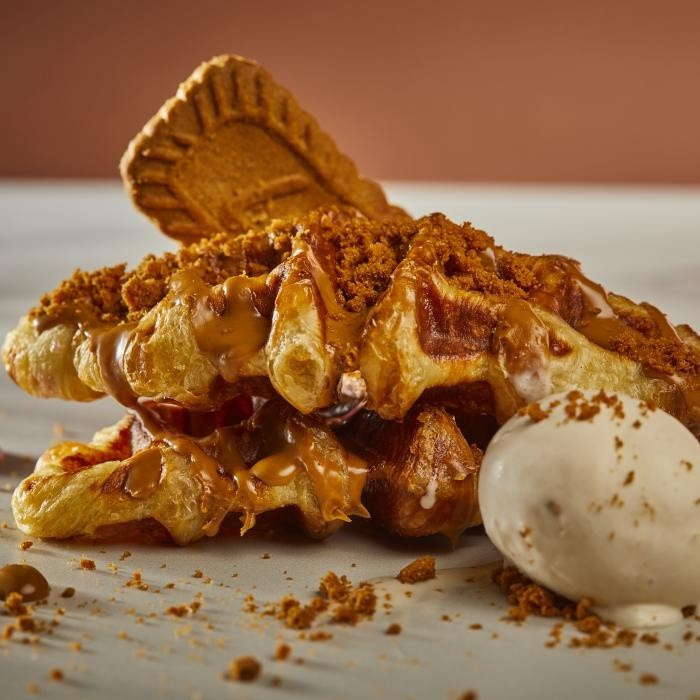 Keeping Customers Happy
In the recent 2018 Foodservice Report by UKHospitality, hospitality leaders from all sectors identifies in-app payment as the single most important technology in the immediate future, at 82%. Loyalty schemes were also ranked as an important consideration for hospitality businesses of all sectors and sizes.
Heavenly Desserts are acting on these trends by investing in technology that is proven to deliver results. Launching into 2019 with an imminent release of their own loyalty app, which is an exciting step for the brand and will be welcomed by its customers.
During our interview, we discussed future developments with Yousif Aslam. The MD commented,
"We've been working extensively on our loyalty app programme, which is our personalised loyalty app, integrated with the 3S POS system. We'll now be able to reward our customers for visiting stores up and down the country."
This is an exciting step for the desserts franchise and they are in good hands with 5loyalty, integrated partner of 3S POS, providing beautiful bespoke apps for hospitality businesses looking to increase customer engagement by up to 15X.
Keeping Stock
Being able to manage stock is an integral part of managing a successful hospitality business. The 3S POS Stock Management module has been designed to take control of stock, to the ingredient level. Heavenly Desserts have a large menu with many ingredients, so taking control of their stock will help them streamline the process.
3S POS has been working extensively on the stock module setup for Heavenly Desserts and the franchise group will shortly be taking advantage of its full functionality. The MD commented,
"The data that we're hoping to get from the stock management system, once that goes live, is information about various different KPI's. We're going to be able to better drive margins for our business. We have over 150 different recipes on our menu and managing the profitability of them, in quite challenging times for the food and beverage industry, will be really key for us."
End-to-end Support
When choosing an EPOS technology partner, every hospitality business looks for outstanding technical support. At 3S POS, we have a very experienced team of engineers who are always on hand to deliver the best possible support for our customers.
We have been proudly supporting Heavenly Desserts for over three years and we are delighted to be working with them on future developments. In his final interview comment, Yousif explained his motivations for recommending 3S POS to other businesses as technology partner:
"Every step of the way, the 3S POS team have been very helpful and very patient in dealing with the problem for us. I would definitely recommend the 3S POS system to anybody or any operator looking to implement a new system into their business."